3 benefits of anodized aluminum labels and nameplates
March 11 '21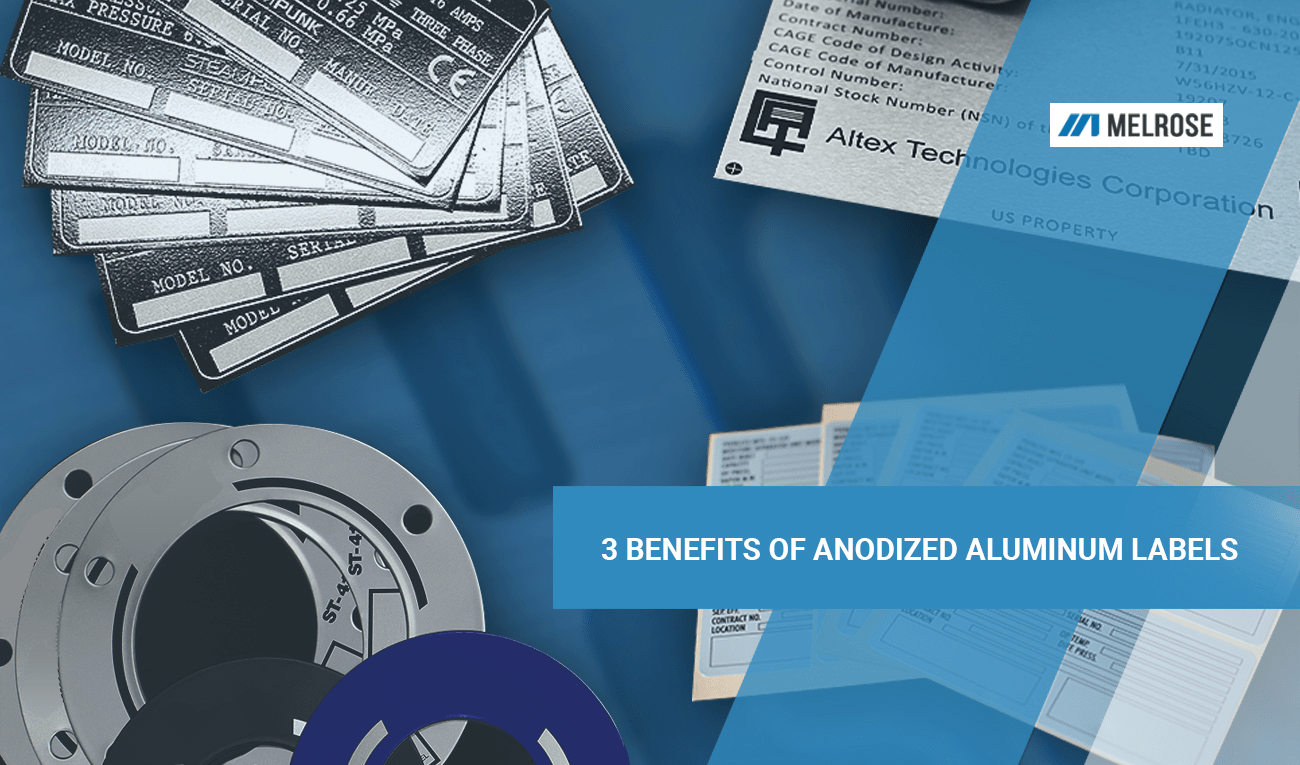 Anodized aluminum labels are a great choice for applications that require outstanding resistance to abrasion and excellent durability. Anodized aluminum is a popular choice for components such as labels, signs, stickers, and tags also thanks to its lightweight and cost-effectiveness. Metal stickers and tags made of this material are a great choice for any permanent labeling solution.
Since in this type of label the graphics are sealed beneath an anodic layer, no environmental conditions can affect them. That's why anodized aluminum is so resistant to abrasion, corrosion, chemicals, and solvents.
But what are the other advantages of using anodized aluminum labels? Read this article to learn more why anodized aluminum is such a popular material across many applications and industries. We hope that the information we share helps you to decide whether anodized aluminum is the right choice for your application.
Benefits of anodized aluminum labels
1. Lightweight and durability
As we mentioned in the introduction, anodized aluminum is highly resistant to damage from sources of abrasion and other hazards. That's what makes it such a common choice for applications used in industrial settings and other demanding environments. Surface damage or reduced readability will no longer be your concern.
Anodized aluminum labels also perform well in outdoor environments. They can last for up to 10 years, even when exposed to harsh weather conditions.
Experienced manufacturers like Melrose can seal the high-contrast graphic under an anodic layer of aluminum to protect the label's surface and preserve the integrity of the graphic. 
2. Wide range of colors
While manufacturers can print materials with a limited number of color options, anodized aluminum doesn't come with this limitation. It can be processed with a wide variety of color graphics. Anodized aluminum offers color printing options that come with high contrast and excellent readability.
However, note that when choosing color graphics you need to consider their reduced UV resistance as the main drawback. This is especially important for outdoor applications where the labels would potentially be exposed to the sun.
If your application requires labels that can withstand direct sunlight exposure, Metalphoto® anodized aluminum is a good choice as it offers the expected lifespan of up to 20 years in outdoor environments without fading. 
3. Flexible attachment options
Another benefit of anodized aluminum is that it's of the few materials from which we can make labels that have a high surface strength despite being extremely thin.
It's possible to place aluminum foil labels on uneven surfaces and curved equipment – for example, pipes or cables. Such aluminum stickers also use a high-performance, pressure-sensitive adhesive, so removing them is very difficult. That's why they're just as protected as security labels.   
Where are anodized aluminum labels used?
Asset management

– Anodized aluminum labels and tags are a standard component of asset management systems. Thanks to the excellent balance of cost and durability, aluminum tags can be used even in the largest fleets and inventories at an affordable cost.

Product Identification

– Customers can choose from rigid and foil options, so anodized aluminum labels can be attached to practically any surface. They can be printed with barcodes to enable efficient inventory management.

Military, aerospace and maritime labels

– Anodized aluminum is often chosen in such applications because they're exposed to the most demanding environments. Thanks to strong resistance against water, chemicals, and UV rays, anodized aluminum is an excellent material for applications such as military data plates. Some military standards and aerospace applications specify Metalphoto® aluminum as the material to use. 
Get high-quality anodized aluminum labels
At Melrose, we manufacture aluminum nameplates that can be printed, etched, and engraved. Our embossing technique allows creating an attractive 3D effect. We also offer Metalphoto® aluminum options. If needed, our experts can also add barcode and variable data upon request.
We specialize in aluminum plates manufactured to meet the high demands of aerospace and military specifications. Get in touch with us to get anodized aluminum nameplates of the highest quality