9 things to consider when designing a UDI label
August 25 '21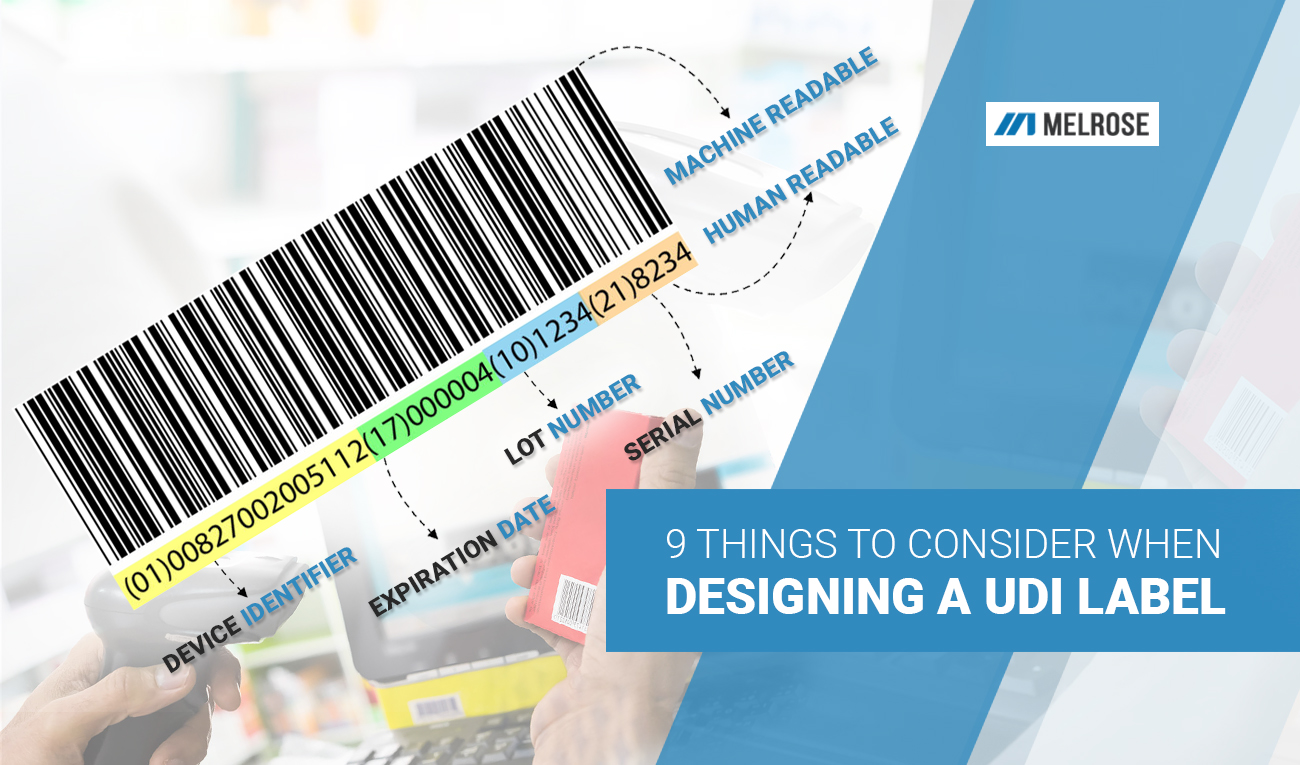 The design of a UDI label directly translates into its scannability and usability. That's why it's essential to follow the industry best practices and ensure that your UDI label performs its function and is also aesthetically attractive. 
Here's a list of 9 critical factors you need to consider every time when designing a UDI label.
1. Environment in which the label will be used
You need to know the environmental conditions to which your label will be exposed. Based on that information, you can choose the best housing, substrates, and overlays. You can make sure that adhesives stay intact throughout the entire lifetime of your product. 
What are the most important conditions to consider here? Temperature (from extreme heat to cold), exposure to dust, dirt and debris, humidity or moisture, and exposure to UV rays. 
2. Surface affection testing
Testing surface affection helps to understand whether a service can withstand exposure to cold, scratching, or contact with abrasive materials. For customers, it makes sense to test the surface affection of the label during the label qualification process. 
3. Housing
Surface materials come with specific bonding properties. That's why it's important to know your specifications really well in order to identify the most suitable housing and adhesive. 
Which characteristics should you consider here? Surface energy, choice of metal or plastic material, smooth or textured surface, curves or flat shape of the label, and presence or absence of powder coating, which is common on painted housings. 
4. Size and placement of your label
You need to know if your label needs to have a particular size and where it will be placed on the housing. If the product label will sit within a cavity or needs to lay flush with the housing, its thickness will become an incredibly important factor. 
Why is that? Imagine that the cavity is slightly taller than the thickness of the material. As a result, it might create a shadow on the barcode and impact your label's performance. 
5. Grading
UDI labels should be graded out at a B or higher mark. Manufacturers may have in-house barcode grading equipment and software to make sure that you meet the proper grades before shipping. Moreover, manufacturers can provide you with a barcode report for hardcopy and digital record-keeping. 
6. Barcodes to label size ratio
The label size can influence the barcode's performance too. For example, consider that the size of the label might actually be too small for traditional linear barcodes. In such a scenario, the manufacturer can provide you with a 2D barcode that is smaller and requires less that space around its border. 
7. Variable data for your UDI label
Serial numbers and barcodes usually require variable data printing. This can be easily accomplished with the help of digital printing capabilities. Before teaming up with a manufacturer, make sure that the company can support you in this regard. 
8. Colors
Depending on your application, your UDI label might have to match the housing or brand colors. By using the Pantone color matching services, our team can match any color for a clean and attractive look.
9. UDI labels and medical device classification
When it comes to medical devices, you will be looking at three different classifications that are based on the degree of control required for effectiveness and safety. 
Class I devices come with minimal potential for harm – for example, a bandage. 

Class II devices are included in the majority of medical devices like powered wheelchairs. 

Class III devices are often implanted, life-supporting, or come with a higher risk of illness and injury (for instance, an implantable peacemaker). 
Get high-quality labels at Melrose 
Our experts have decades of experience in providing customers across the most demanding industries with high-quality UDI labels that are customized for their applications. Our team knows always consider all of the factors listed above when delivering UDI labels to ensure their lifelong functionality and excellent operation. 
Do you need a UDI label? Reach out to us to get a quote; we look forward to hearing from you.