Expert guide to medical labels
November 1 '21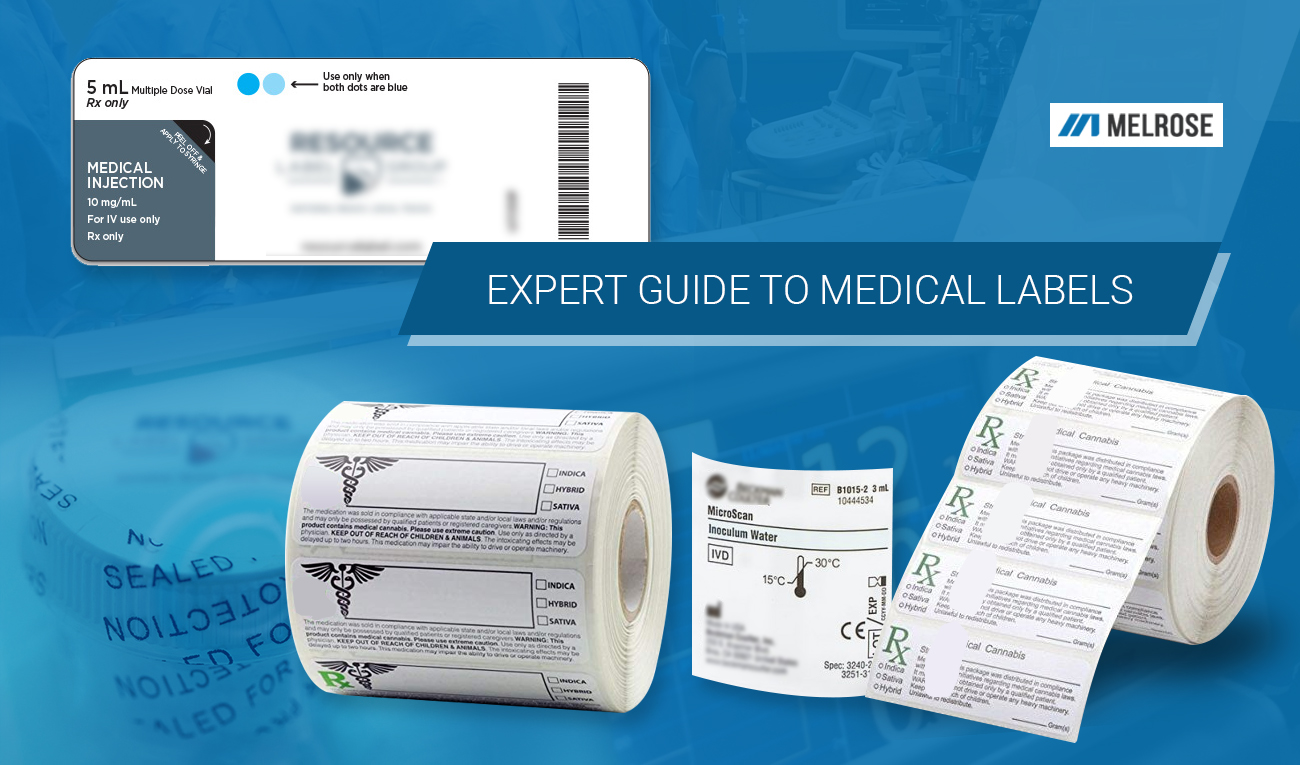 Medical labels are a particular field of printing governed by regulatory requirements and functionality. Today, healthcare institutions take advantage of cutting-edge technologies such as smart labels with track-and-trace capabilities, temperature tracking, anti-counterfeiting, and more. 
Keep on reading to discover more about medical labels – their key requirements, available technologies, certificates, and industry best practices for label manufacturing.
What requirements must medical labels meet?
Medical labels must include critical product information, be clearly visible, and allow printing changeable data like the batch number and expiration date. Some additional features for healthcare professionals are, for example, detachable sections for medical records, integrated hangers for suspending infusion bottles or several layers for long texts in different languages.
The key goals of medical labels are protecting, informing, and securing products. They're manufactured to maintain the product's integrity and the patient's safety. That's why medical labels need to comply with or surpass rigorous industry regulations and safety criteria.
First of all, the material must meet local regulatory requirements and provide reliable performance. Manufacturers need to consider how the label is applied (manually or using a machine) and environmental conditions such as temperatures, chemical exposure, sterilization, and more. 
Medical labels come on a variety of materials, with a growing trend toward films due to the rise of medicinal goods packed in vials and syringes. After all, they should withstand humidity and cold temperatures, especially during storage. 
Smart labeling
Today's hospitals strive to manage their resources better and provide excellent service to their patients by implementing new technologies called smart labeling. They promise to help hospital personnel to spend more time with patients. Moreover, Tracking drugs and other medical supplies can help prevent waste and theft – or generally dealing with inventories more efficiently.
Healthcare organizations often store high-value supplies, and smart labeling leads to accelerated inventory-taking, more precise identification of chargebacks, and waste reduction from expired items.
Because of their unique identifying and tracking capabilities, technologies like RFID are a wonderful innovation in the pharmaceutical and medical sectors. 
Label durability is critical
Durability is a key consideration for medical labels that may play a part in life and death scenarios. The label's durability is critical because it provides critical dose or safety information that needs to remain in place and readable for the product's full lifetime, during and after sterilization.
That's why the label material might be required to work well in the labeling of tight mandrel containers, be tested and certified for low leachable qualities, adhere and keep adhesion in a variety of low and high temperatures, and resist various sterilization conditions.
Medical labels carry information about dosage, lab testing/vial labeling, drug warnings, IV-line tracking, patient identity, and recordkeeping. An error in this area might have catastrophic consequences. 
Consider these 9 things while choosing UDI labeling solutions.
The correct foundation
The job of selecting the best substrate for a medical label is not easy. Both Avery Dennison and UPM Raflatac have made significant investments in R&D to ensure the highest possible quality in this market. A variety of factors must be considered, including tiny diameters and curved surfaces.
How to construct a great medical label?
From glass, PET, and PVC to cardboard, polypropylene, and squeezable LDPE and COC, materials used for labeling present challenges.
Label materials come into indirect interaction with the medicine through containers, so they're often categorized as main packaging materials. Anything that leaches into the drug can have a direct impact on patient safety, be it its toxicity or interaction with the product, potentially impacting the product's efficacy or stability.
The adhesive plays an important role as well. Medical labels should cling to main and secondary packaging reliably, so the strength of the adhesive is crucial. Manufacturers need to take environmental factors and mechanical abrasion into account as well. 
Not to mention the time it takes to label the goods before they return into cold storage – if the container is sterilized after labeling, the label material will be impacted by the sterilization process. And not all label materials are appropriate for all forms of sterilization. Naturally, adhesives used in the pharmaceutical sector undergo extensive FDA testing to guarantee they meet toxicological standards.
Complex regulatory landscape
Medical labels must adhere to stringent guidelines and standards. Improper labeling might have serious consequences. Pharmaceutical and medical label regulations have significant influence over labeling and packaging decisions.
For example, the European Union's Falsified Medicine Directive and the United States' Drug Supply Chain Security Act enhanced the needs and urgency for supply chain security. Greater requirements in this area present new challenges to labeling such as monitoring and tracing, serialization and trademark protection, as well as tamper-evident label solutions.
Due to the high-quality expectations of the pharmaceutical industry, continuous inspections and 100% video control play a key part in medical labeling. Mislabeled or unreadable labels might endanger patient safety, so medical label converters must adhere to cGMP standards to ensure that no labels are mixed, missing, or contaminated.
Get help in designing medical labels from Melrose
Our engineers develop labeling solutions that address the safety, quality, and reliability standards for customers in the medical industry. We hold the ISO 9001:2015 certification and offer our clients ISO 13485 capability to make sure that their applications match even the most demanding requirements. Get in touch with us to explore our product offer and receive expert advice about medical labeling.