Expert guide to safety labels
February 8 '21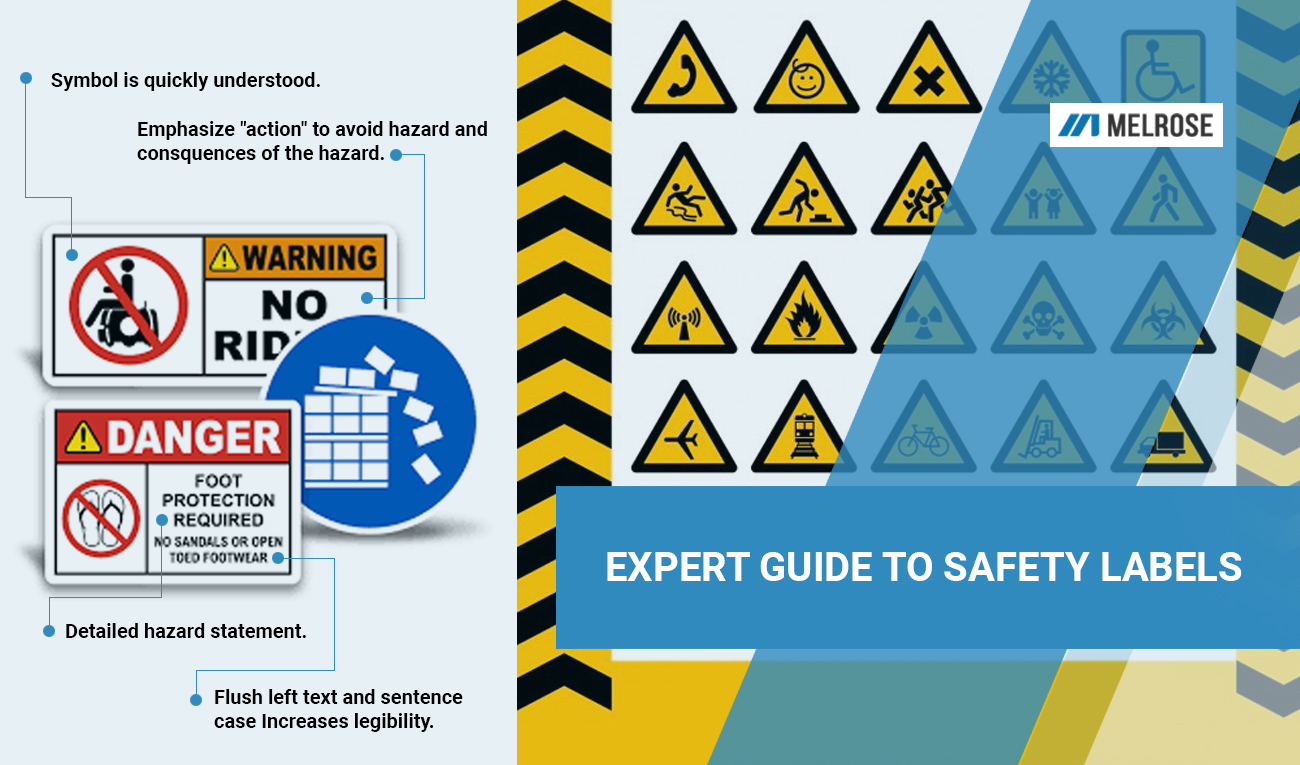 Safety labels are the essential component of products and equipment manufactured for practically every industry, from automotive and consumer electronics to kitchen appliances. Just like any other equipment components, they need to stay functional throughout the entire product lifecycle. 
Manufacturers need to make sure that safety labels are engineered to remain legible and intact even in the harshest conditions such as high humidity, extreme heat, or UV exposure. It's essential that they continue serving their functions, such as communicating safety warnings or product information. This is why the construction and printing technologies of safety labels are so important. 
In this article, we address the questions our clients usually ask us about safety labels when we guide them through the labeling process. Read on to find out everything you need to know about safety labels.
Common types of safety labels
Safety labels are a broad category that consists of various uses. For example, a single piece of equipment might have even three or four different types of labels. One can communicate compliance information or adherence to safety standards, warnings can inform consumers about potential safety threats coming from improper product use, and labels overlaying buttons can show customers how to actually use them. 
Compliance and safety labels are usually attached to the product permanently. Warnings the most common types of safety labels. They protect customers against injury or even death. They also protect manufacturers from product liability claims. 
Such labels clearly mark various safety hazards and show consumers how to avoid them. They often have a requirement of color – orange, yellow, or red. There's also the simple hazard and language in use on safety labels. All of these requirements are outlined by the American National Standards Institute (ANSI).
Similar to compliance labels, safety labels combine all of the critical information that needs to be communicated on each label. This information will need to remain legible so the label can't peel, tear, or strength. 
Key aspects to consider during the labeling process
1. Equipment surface
First of all, you need to consider the surface of your equipment to make sure that the adhesive you pick performs well with it. This is the most critical part of the label because choosing the wrong adhesive might cause your safety label to fail. 
You'll be looking at two aspects:
Surface type – high surface energy vs. low surface energy 

Surface texture – rough or smooth.
Surfaces like glass, aluminum, or copper are high-surface energy materials. They allow adhesives to spread out better over the surface. On the other hand, there are polystyrene, powder-coated aluminum, and polypropylene – lower surface energy materials that inhibit the adhesive's ability to spread out over them. If you pick these materials for your applications, you will need a special adhesive for lower surface energy materials.
If your equipment has a rough surface texture, you will need to use a thicker adhesive to make sure that it spreads over all the peaks and valleys of the surface.
2. Your application's environment 
Some safety labels will have to survive in the most extreme conditions. That's why before picking your label, you need to determine whether it's up to the task. 
Will your equipment be used indoors or outdoors? 

Is the environment going to be dry or wet? 

Is the use going to be light or heavy? 
All of the critical environmental factors will have an impact on the materials, adhesives, and coatings used in your label.
3. Industry and regulatory requirements
It's essential that you communicate any industry requirement or labeling standards that you need to comply with your label manufacturer. Such standards include CSA, UL, and IEC. 
For example, if you need medical grade safety labels for your equipment, let your manufacturer know, and they will select the best materials for the job. If you need a UL-recognized safety label, you can choose from our label constructions that are recognized by UL for multiple printing technologies.
Get high-quality safety labels
At Melrose, we have many years of experience in providing our clients with high-quality safety labels that fulfill their requirements and provide a durable effect, protecting our customers for a long time and following intensive use. 
If you're looking for a reliable manufacturer of safety labels, get in touch with us. Our experts will help you to choose the best options from our portfolio and get the labels you need for your product to succeed.