Guide to barcode identification tags on nameplates and labels
December 11 '20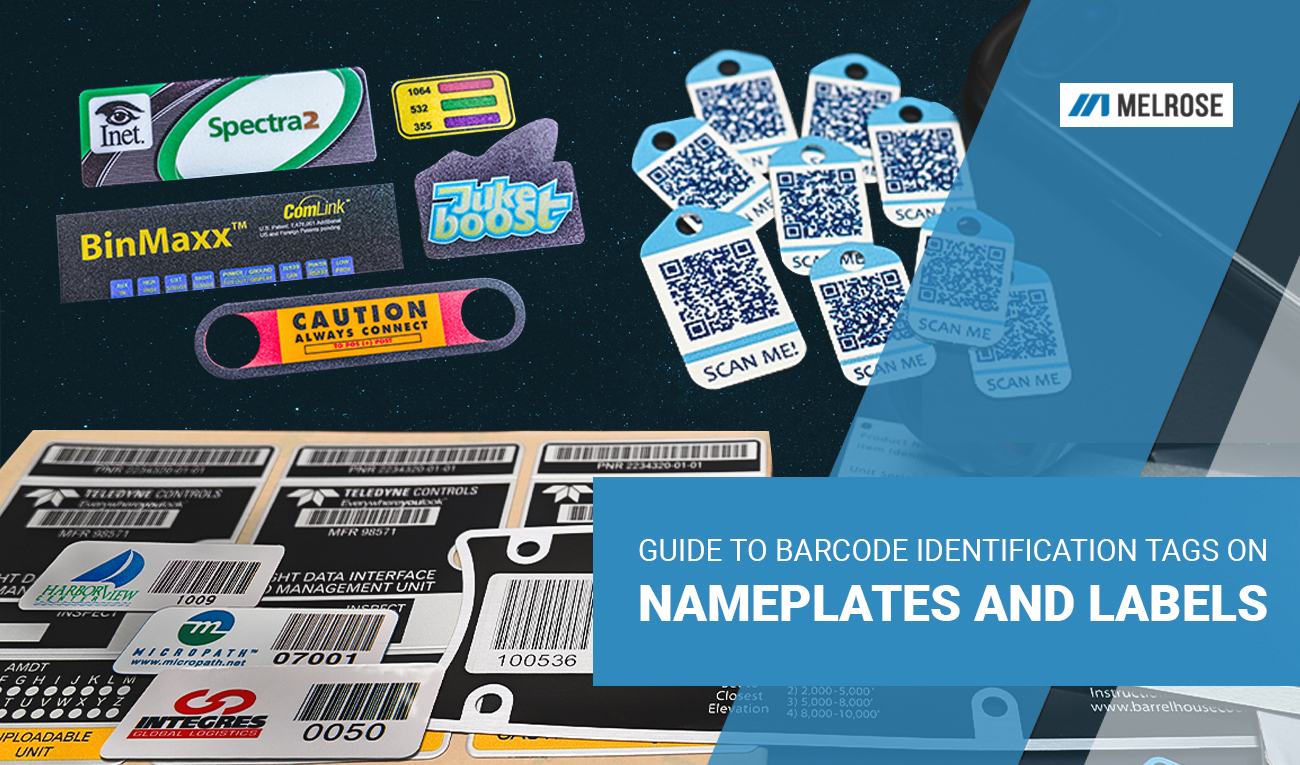 Barcode labels, nameplates, and tags can include barcodes as key elements for managing factory, inventory, office, or outdoor equipment. Thanks to services provided by Melrose experts, you can easily mark all of your products with variable or static information using barcodes. Some of the most common ways to add barcodes to a label or nameplate are laser engraving, digitally printing, or using metal photo aluminum.
Product identification tags and nameplates with barcodes can come at a high quality, helping organizations to keep track of their assets and identify pieces of equipment for many years.
In this article, we share a guide to barcode and variable data labels, nameplates, and tags focusing on three key types of labels you can choose from if you would like to have barcodes printed on them. Read on to find out everything you need to know about barcode printing on labels.
1. Second surface printed labels
This type of label is an excellent choice for more demanding applications. The substrates used here are generally thicker and can be engineered to match specific requirements.
That is why when ordering a second surface printed label, you need to pay attention to the application surface, potential exposure to chemicals or outdoor factors such as temperature fluctuations or UV rays, as well as abrasive conditions and fire rating requirements.
Second surface printed labels usually come in transparent polyester or polycarbonate material. Experienced manufacturers like Melrose can offer full core color printing and PMS matched colors as well as a choice of substrate materials, such as textured materials, scratch-resistant materials, UV- and salt-resistant materials, or fire-rated materials.
How are second surface labels made? They are printed using the screen, digital, or offset printing process. Additionally, at Melrose, we laminate labels with a 3M adhesive and die-cut them with steel rule dies, punch presses, or CO2 lasers. You can print any variable data or barcodes behind clear durable material to ensure that it provides information for a long time.
2. Aluminum nameplates
Aluminum nameplates can also be surface printed or have a copy recessed by engraving or etching. This ensures extra durability.
Aluminum nameplates come in one color or in more sophisticated variants, thanks to full-color printing. However, both can feature variable barcode information printed on top of them.
How are the barcodes printed on aluminum nameplates? At Melrose, we use photographic or spot PMS color images. It's possible to emboss copy and create a 3D effect as well.
The advantage of aluminum nameplates and labels is that they're lighter than stainless steel or brass nameplates. Moreover, they can be attached with adhesives to mounting holes. If your application requires the printed areas to be more resistant to abrasion, recession is an excellent choice. Engraving or etching a printed barcode can accomplish this task.
However, if you expect that your aluminum nameplate might be too soft to withstand exposure to humidity, abrasion, or caustic materials, a stainless steel nameplate might be a better choice. The good news is it's possible to add a barcode on a stainless steel nameplate as well.
3. Stainless steel nameplates
Such nameplates are considered the gold standard when it comes to chemical resistance and durability. That's why stainless steel nameplates are a great choice for customers looking for materials that retain quality, even in the most demanding environments.
At Melrose, we offer high-quality stainless steel and brass labels and tags with a recessed copy at about .003″ below the top surface for the best durability effect. You will find our nameplates everywhere – for example, in processing equipment, elevators, military ships, oil field equipment, train cars, and many industrial products.
We manufacture stainless steel nameplates that meet the requirements of pressure-retaining vessels per the National Board of Boiler and Pressure Vessel Inspectors and ASME requirements.
How can a barcode be printed on a stainless steel nameplate? The process begins with acid etching that recesses copy and graphics onto the stainless steel material. Then the recessed areas are filled with automotive-grade paint. If required, we can also print images with durable inks in the non-recessed areas. Matched colors and multiple PMS matched prints are also an option.
When it comes to the etching process, it can proceed from the front and backside of the plate. This is called chemical milling – we cut very fine holes and patterns in stainless steel (or other metals such as brass and copper). Since we laser-cut or mechanically punch holes and apply adhesive to our applications, they can match a wide range of possible applications. Moreover, our nameplates can come in irregular shapes or sizes. You can be sure that your employees or customers aren't exposed to any sharp edges or dangerous burrs on the nameplates.
Conclusion
We hope that this guide helps you understand your options when it comes to printing barcodes on nameplates and labels. By picking the right material and technique, you can equip your company with nameplates that will last for years, helping your organization to achieve its business goals without having to worry about the quality of your labels and nameplates.
If you're looking for professional advice on this matter, don't hesitate to get in touch with us. Melrose experts have many years of experience in delivering high-quality nameplates printed with barcodes to organizations operating in the most demanding industries such as aviation, healthcare, defense, and military.