How to choose the right nameplate for your equipment
October 28 '20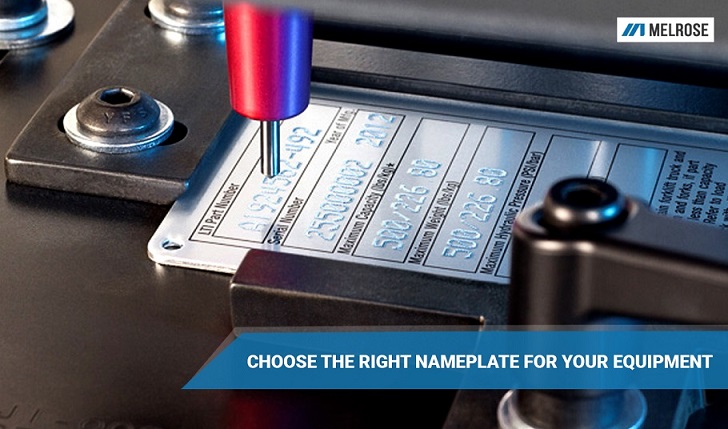 Choosing a nameplate for equipment might seem simple, but in reality, it's a far more complex decision that affects its durability and functionality. There are at least a few steps you need to take in order to make sure that you're choosing the right nameplates for your project.
In this article, we take you step-by-step through this process to help you understand what options you can choose from and how to get high-quality nameplates for your application within your budget.
Consider those three factors
When choosing a nameplate for your equipment, take into consideration the following factors:
its material characteristics and applicability in various environments,
the surface to which will be attached,
and its service life.
Depending on the environment to which the nameplate will be exposed, you can pick from the four main types of nameplates: stainless steel, vinyl decals, polycarbonate overlays, or anodized aluminum nameplates.
Let's take a closer look at these options to help you understand which one is a good match for your project.
4 types of nameplates you should know
1. Stainless steel nameplates
These nameplates have a good indoor service life, but they aren't recommended for long-term outdoor environments. A protective coating can increase the service life of a stainless steel nameplate significantly. Humidity has no effect on such nameplates, but direct sunlight does since they come with limited UV resistance.
While stainless steel offers good resistance to chemicals and solvents, and saltwater has no effect on it, corrosion is a problem for this type of nameplates. Another interesting trait of stainless steel nameplates is that they offer antibacterial properties, which make a top choice for the food industry. They are resistant to extreme temperatures and can be engraved to include any design of your choice.
2. Aluminum nameplates
The type of nameplates usually includes printing sealed under a sapphire-hard anodic layer. This is why they're also called anodized aluminum nameplates. They're a great choice for equipment utilized in extreme environmental conditions and can withstand consistent exposure really well.
Such nameplates are protected from humidity, salt water, chemicals, solvents, and water (there's no corrosion effect). Their corrosion resistance and small weight are two key characteristics that make aluminum nameplates such a popular choice.
Aluminum is a strong material that can nevertheless be shaped easily because of its low density and soft nature. The characteristic silver appearance offers excellent contrast and readability in almost any color.
Anodized aluminum plates match the majority of military standards because they are the most durable printed aluminum substrate available on the market today. Naturally, the pricing for aluminum nameplates is at the higher end of the spectrum.
3. Polycarbonate overlays
The main trait of polycarbonate overlays that makes them so popular is the excellent optical clarity and high mechanical strength. That's why you can find such a broad selection of overlays for indoor equipment and other applications.
Note that all carbonate overlays are resistant to stains, heat, abrasion, and corrosive chemicals. They come with excellent dimensional stability. They're lightweight and very easy to cut.
You can choose overlays in many different material thicknesses that come with different impact resistance. The high light transmission and low haze make polycarbonate overlays one of the best quality films available on the market.
4. Vinyl nameplates (vinyl decals)
This type of nameplates offers high tensile strengths, dimensional stability, clarity, and versatility. Vinyl decals are also lightweight and very easy to cut or print. They're resistant to corrosion and humidity, offering limited UV resistance. When vinyl decals get in contact with chemicals and solvents, their printing might wash off if they're not covered with a protective film.
They're a popular option for tough equipment applications and work really well in indoor equipment.
Pick a nameplate that matches your requirements
When choosing the best nameplate option for your project, it's essential that you match it to the requirements of your projects and choose a nameplate made of durable material.
Outdoor applications
Outdoor applications usually require excellent durability and resistance to extreme weather conditions such as high temperature, humidity, or exposure to water. That's why the best options are aluminum or stainless steel nameplates.
Indoor applications
If your equipment will remain indoors and will be used in an industrial setting that is not abrasive, vinyl decals will work well. For more demanding indoor environments, use polycarbonate overlays.
At Melrose nameplates, we have decades of experience in providing our clients with high-quality nameplates that match their application's requirements.
If you have any questions, please reach out to us – our consultants are happy to advise you on the best nameplate technologies for your application.