How to pick the right graphic overlay for your project?
December 9 '20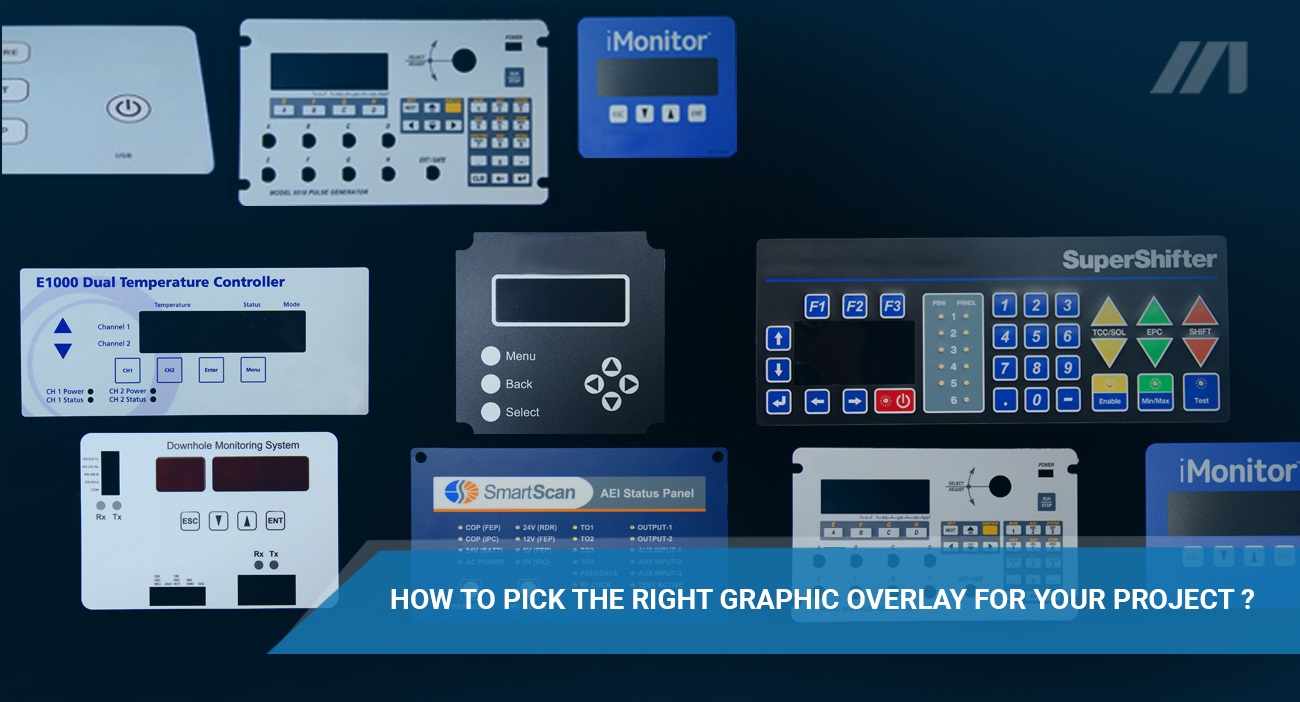 Graphic overlays are common in a wide range of products, starting with labels and ending with keypads and membrane switches. Before turning to a manufacturer with your application requirements, it's good to answer a few questions to understand which type of graphic overlay will fit your project best.
The truth is that a graphic overlay plays a critical part in the usability and durability of your product. The right graphic overlay will protect your control panel from any environmental damage and speed up the production time, helping your business to fast time-to-market.
Here are a few points to consider when ordering graphic overlays as part of your application.
1. Clarify the basic criteria
Before choosing a graphic overlay for your project, stop for a moment, and ask yourself some basic questions about your product. By answering them all, you will solidify your choice of the graphic overlay and ensure that what you get matches your product specifications perfectly.
Here are some questions to consider at this point:
What type of device will the graphic overlay be used for?
What is the purpose of the graphic overlay in your application?
How complex is the printing design?
How complex is the control panel on your device? How is the panel operated (with buttons, levers, knobs)?
What type of environment will your application product be used in? Will it be used indoors or outdoors? Will it be exposed to harsh chemicals, UV rays, humidity, extreme temperatures, and dust or debris?
What special features or materials you need to be part of your products?
What is the expected frequency and intensity of usage?
By answering all these questions, you will identify the exact specifications your graphic overlay needs to meet to bring benefits to your final product.
2. Which substrate should you choose for your graphic overlay?
Once you establish the general guidelines to follow when picking your graphic overlay, it's time to take a closer look at your options.
When approaching a manufacturer, it's good to know what kinds of graphic overlays are available on the market and what strengths they bring to the project.
The main substrates for graphic overlays are polyester and polycarbonate. These two materials come with their unique capabilities and challenges.
Polycarbonate
This material is used in graphic overlays developed for environments with extreme temperature fluctuations and changes in climate. Polycarbonate graphic overlays can be used indoors as well as outdoors. Moreover, they have a high tolerance for fires and flames.
Polyester
If you need a graphic overlay that will be resistant to UV rays, polyester is an excellent substrate for your product. The benefit of using polyester is that the surface isn't going to fade in the sunlight. Moreover, this type of graphic overlay comes with a high tolerance for heat.
3. Which type of finish will work best for your graphic overlay?
The kind of finish you get for your graphic overlay is just as important as the substrate you use for it. It's all about the purpose of the overlay and the general usability of your product.
So before picking a finish, think carefully about what you need that finish to perform. For example:
Will it need to survive under environments where the control panel is used a lot?
Does it need to withstand extreme temperature fluctuations?
Should it offer protection against UV rays?
Here are the most common types of finishes offered by manufacturers like Melrose.
Gloss
A glossy overlay will improve the colors of your graphic overlay. However, it might show fingerprints if it's used with exposed fingers. Still, this type of overlay is easy to clean, so the surface is a common choice for many projects.
Velvet/matte
A velvet or matte finish can be used in a wide range of applications. The key benefit of using a matte finish is that it doesn't reveal scratches or blemishes as much as other types of finishes. The velvet finish offers less glare. It's a perfect choice for both polycarbonate and polyester overlays.
Conclusion
Do you have any questions about the best graphic overlay for your project? If you would like to learn more about your options, get in touch with us. At Melrose, we provide a wide range of products, and our experts can design a graphic overlay that matches the exact specifications of your project. We have many years of experience in delivering custom-made nameplates, graphic overlays, and keypads for control panels.
Get in touch with us! Our experts are here to help you work out the details of your project and identify the graphic overlays that match your unique requirements.