Metallic labels for military applications – key certifications you need to know
January 27 '21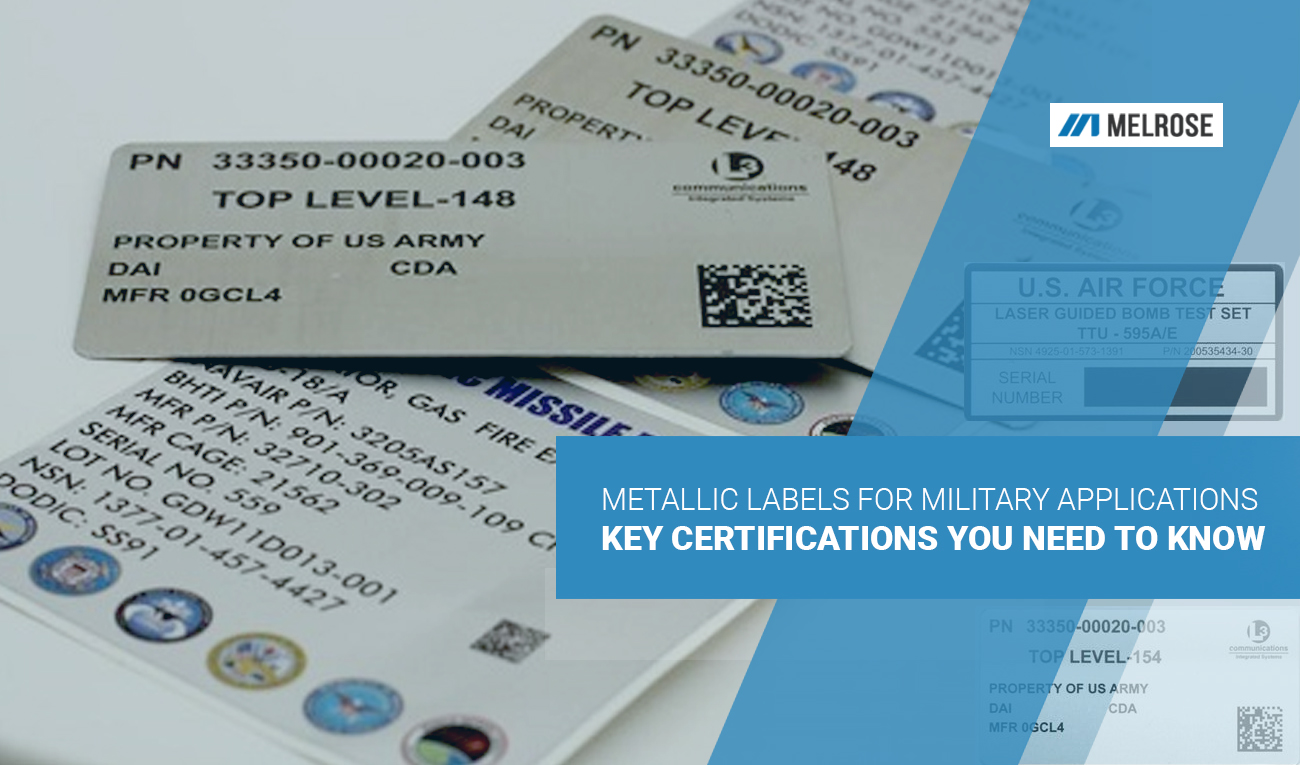 If you supply products directly to the US Department of Defense or are a contractor, your contract is likely to reference various certifications regarding their labeling. Getting these labels is essential to fulfilling the terms of your contract. You need to make sure that your manufacturer produces them correctly and within the deadline in order to avoid delays, pay penalties, or even lose your contract for non-compliance. 
At Melrose, we have years of experience in providing our clients in the defense and military industries with products that meet the strictest labeling requirements. We know what it takes to create metallic labels for military applications.
Read on to find out what certifications your label manufacturer should have if they're tasked with producing labels for your military application.
Why is certification important? 
If a label on a piece of equipment intended for aviation, space, or defense industry fails, the effects could be harmful, causing severe injury or even loss of life. 
Quality management requires developing standardization and quality systems, which are designed to ensure internal quality but also supplier quality. 
When a supplier is located in a different country or even continent, managing product quality can become challenging. To ensure the highest quality of goods, regardless of the supplier's origin, there exist ISO standards and certifications for developing and maintaining subsystems. 
The importance of component quality manufactured for the defense industry is essential – and includes the labels and nameplates used in your equipment.
AS9100D 
This standard defines the requirements for quality management systems to be used at every level of the supply chain by suppliers from around the world. In its essence, the AS9100D specifies the requirements for organizations that design, develop, and manufacture products for the sectors of aviation, space, and defense. The nameplate and label suppliers who serve these industries need to follow this standard too. 
While some countries use different numbering practices, the standard remains the same around the world and is recognized worldwide. It doesn't only include the ISO 9001:2015 requirements but also other requirements that are specific to the aviation, space, and defense industries. The changes to Revision D of the AS9100 standard added information related to dealing with counterfeit parts, human factors, and manufacturing quality, ethics training, as well as product safety. 
A manufacturer that holds the AS9100 certification shows that they're dedicated to supplying labels of the highest quality and safety level. The standard ensures that manufacturers can meet their customers' needs, supports the company culture of continuous improvement, and assesses active risk in designs and processes to help companies mitigate them.
Mil-Spec 19834
This is the military spec engraving standard for adhesive-backed foil plates. Such military UID tags are used for both internal and external equipment identification and instruction plates. 
The specification covers two classifications:
Type I

– for aluminum foil, pressure-sensitive, with easily removable liner 

Type II

– for aluminum foil, with adhesive-backed solvent-activated film
What are the material requirements of Mil-Spec 19834? 
The plates need to be manufactured from a

high-grade aluminum alloy

. 

The adhesive needs to have

a layer of pressure-sensitive adhesive

on one side protected by a film cover. 

The identification of the dimensions of such labels will depend on the size of the unit. However, the thickness of the adhesive-backed plates needs to fall between

.003 ± .0005 inch

. This doesn't include the backing material. 

Such plates are required to withstand extreme temperatures ranging from -55°C to +105°C without any impact. 

Another requirement is

no signs of corrosion, warping, discoloration

, or any other signs of damage. Moreover, lines, letters, numerals of the plate must be clear and sharp. And all the

colors need to be uniform

. 

Smooth edges

are an essential requirement as well – the plate needs to be free of any sharp corners, cracks, blisters, or foreign matter. 

The required finish must ensure that the plates conform to the requirements of this specification. For example, if surfaces are anodized, they need to be anodized in accordance with Type I or Type II requirements before applying the adhesive. Regardless of anodization, the plate must conform to the abrasion test requirements.
Mil-DTL 15024F
This standard refers to engravings for military identification. It requires characters on metal or plastic nameplates to be sunken or relief-etched. These etched or sunken areas of military UID tags need to be filled with colored paint, lacquer, or enamel – using colors that were approved for the application. 
This standard is important for military UID tags used to identify electronic or mechanical equipment. They might also be required for the installation, operation, or maintenance of these items.
Here are the most important requirements covered by Mil-DTL 15024:
Plates that are etched, engraved, chemically-engraved, stamped, cast, screen or lithography printed, and laminated,

Adhesive-backed plates,

Photosensitive plates (covering Type H),

Cable bands (including heat shrinkable),

Laser-generated plates.
We're here to support your defense application 
We hold both Mil-Spec 19834 and AS9100D standards to deliver the highest quality of products to our customers. If you're looking for a manufacturer that you can trust, we have the expertise you need to equip your applications with labels that are durable and match the strictest requirements.