Polycarbonate vs. polyester labels – which one should you pick?
March 23 '21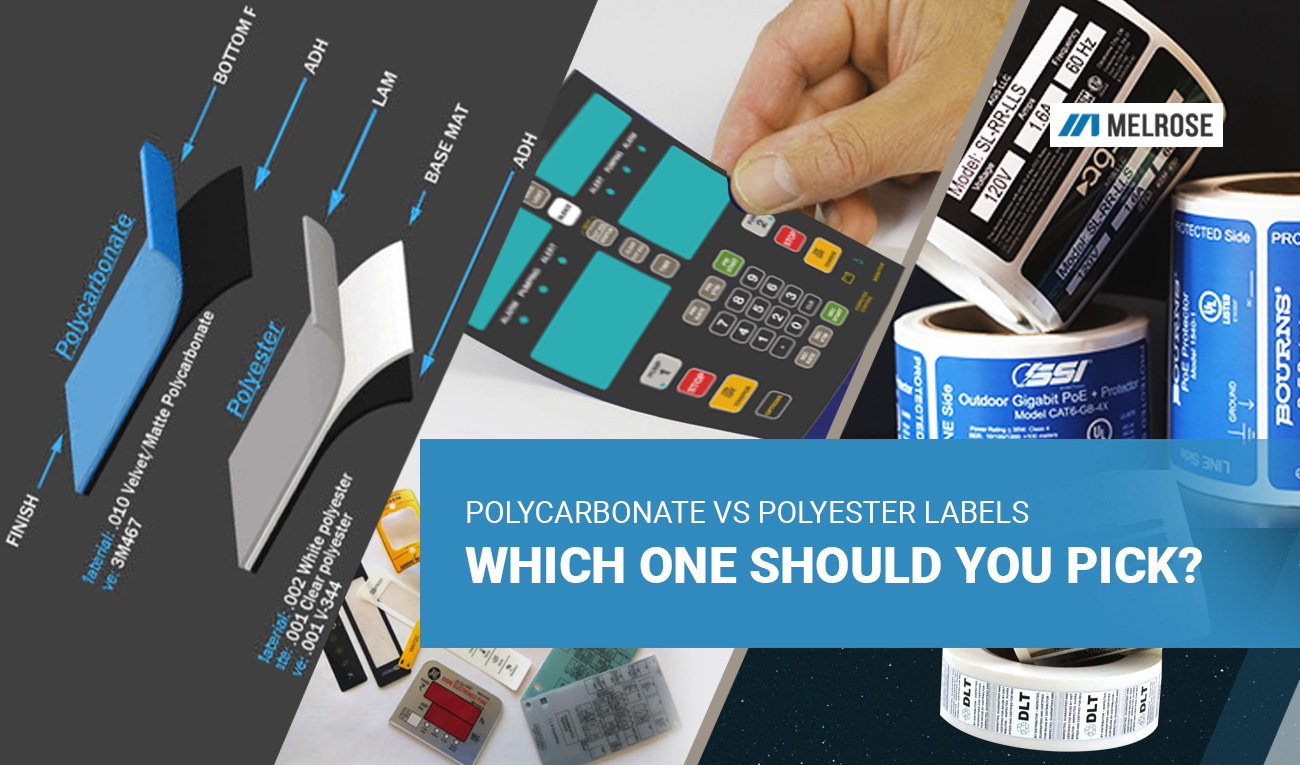 Graphic overlays and second surface printed labels are a common component of many applications today. Most of the time, manufacturers choose polycarbonate or polyester as their material for label construction. 
What are the characteristics of polycarbonate and polyester that you should know? Read this article to learn more about these materials and decide which one is a better option for your application.
Polycarbonate
When specifying polycarbonate as the material for graphic overlays, you need to consider several issues: texture, resistance to scratches, thickness, the possibility of outdoor use, and fire ratings. 
Texture
Textured polycarbonate is a common material for the overlay that is used indoors and the transparent windows aren't required for any display. You can choose from a wide range of textures – from fine matte to coarse velvets. It all depends on the visual effect you want to achieve. 
Note: General Electric's "Lexan" brand sets the industry standard for polycarbonate film textures – for example, identities such as 8b35, 8a35, and 8a35f.
Resistance to scratches
Since polycarbonate is a relatively soft material, it might scratch easily. That's why manufacturers like Melrose treat it with a hard coat material. 
Note that scratches aren't easily seen when they occur on textured polycarbonate films. But if your application requires a crystal clear window, you need to choose hard-coated polycarbonate. 
Manufacturers often offer several types of hard coatings with various gloss levels. You can choose one that addresses your application's requirement for glare attenuation.
Thickness
Polycarbonate comes in thicknesses from .005" to .156" (and possibly thicker).
Possibility of outdoor use
Polycarbonate materials can be formulated for UV resistance. This is essential if your application and the overlay are going to be used outdoors. If the polycarbonate overlay isn't outdoor-rate, it might yellow as a result of the UV light exposure.
Like every other material, polycarbonate has its limitations. If you're looking for a keypad application, polycarbonate is not a good choice because it will fatigue and crack after circa 100,000 critical cycles.
Polyester
Polyester is the most common overlay material used in membrane switches thanks to its superior fatigue resistance. 
If the overlay is going to flex in use – for example, as part of a membrane switch – then polyester is the preferred choice. That's because polycarbonate is a material that fatigues and cracks after a specific number of cycles. However, if this is not an issue in your application, you can still use polycarbonate overlays that come with a wide range of features and properties.
Here are the key features of polyester that you should know.
Scratch resistance
Polyester can be covered with special scratch resistance hard-coats. These are a must-have for applications with a clear window.
Fatigue Resistance
Polyester offers fatigue resistance of 1,000,000 cycles!
Chemical Resistance
Polyester is also more resistant to chemicals than polycarbonate.
Textures
Polyester offers a less extensive range of options here than polycarbonate. So, if the overlay isn't going to flex in use and you want to create a special visual effect, polycarbonate might be a better choice.
Thickness
Polyester comes in thicknesses of .008" and thinner.
Fire Rating
Since polyester has a thin gauge, its fire ratings are very limited. However, they are often unnecessary.
Get high-quality polycarbonate and polyester labels
At Melrose, we have years of experience in providing our clients with high-quality labels that match the unique demands of their applications. Get in touch with us to equip your product with the components it needs to stay functional for a long time.