Pressure sensitive labels – what are they and when to use them?
February 15 '21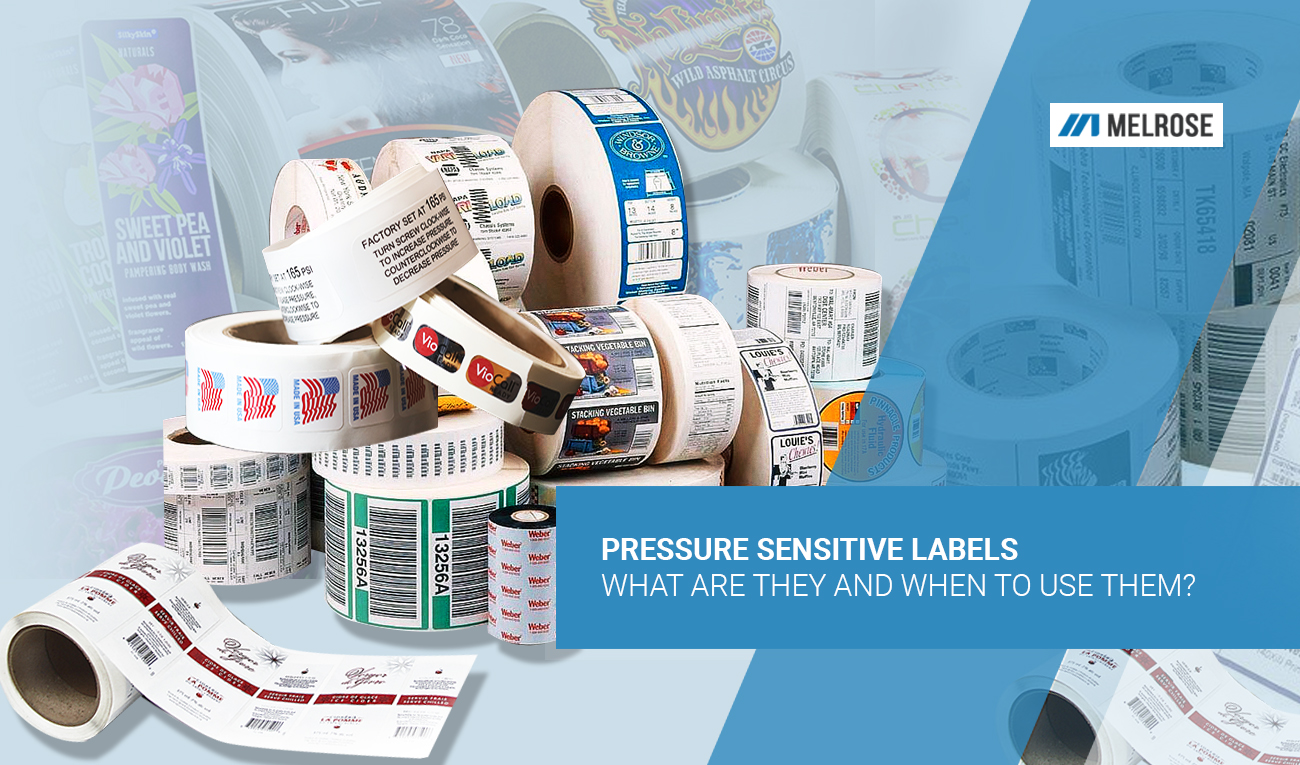 Pressure-sensitive labels are a cost-effective solution for a wide range of applications. They are a great option for products that have moderate environmental demands but require attractive and eye-catching labeling. 
If you're wondering whether pressure-sensitive labels are a good choice for your application, this article is for you. 
Read on to find out what pressure sensitive labels are when to use them, and what materials they're made of to address the requirements of your application.
What are pressure sensitive labels?
Pressure-sensitive labels are like high-tech stickers. They can use different materials and inks, delivered in rolls or sheets. They don't require any type of heat, solvent, or water to activate them – all it takes is light or moderate pressure to apply them to a surface. 
Pressure-sensitive labels don't require any type of process to become attached to a product; they are an easy label solution. You can simply peel a label off and press it into your product using a machine-applied technique or manually. 
Depending on the intended use, a pressure sensitive label can be either permanent or removable. This depends on the use and requirements of your product. High-performance pressure-sensitive adhesives can ensure that your label stays in place even when exposed to high and low temperatures. You can also choose from heavy-duty options to support bulkier labels support in the most demanding applications.
When to use pressure-sensitive labels?
Pressure-sensitive labels enjoy a wide and varied use across practically every industry. You will find them on products such as automotive items, household goods, food and beverage containers, wine and spirits bottles, or chemical pails.
This type of labels can be used to communicate critical information, such as:
warning and safety messages, 

consumer instructions, 

product identification. 
Pressure-sensitive labels find widespread application in:
packaging, 

bottles, 

containers,

and many other types of products and finishes. 
3 common constructions for pressure-sensitive labels
Polyester
Polyester labels are durable, strong, and offer excellent performance in harsh environments. Such labels can come with customized printing or graphic options to meet the exact requirements of your product. 
Characteristics:
Excellent fatigue and heat resistance,

Dimensional stability, 

Resistance to UV rays, chemical, and corrosive materials,

Resistance to scratches and abrasions,

Good choice for outdoor use. 
Polyester with overlaminate
The material on polyester is thin, printing is on top of that./ If you want the printing to be more durable, you can place a clear overlaminate on top of the material, polyester.
Second surface label
Polycarbonate
Polycarbonate is a popular material for products in nearly all environments, thanks to its versatility and durability. Some of the most popular applications for polycarbonate labels are warning and safety messages, product identification, or operator/consumer instructions. 
An experienced manufacturer can produce custom polycarbonate labels of various shapes, sizes, and thicknesses to meet the exact requirements of your applications. The adhesive is important as well – and polycarbonate offers a wide range of options for surface applications. 
Characteristics:
Excellent legibility and clarity, 

Resistance to moisture, stains, abrasive materials, corrosive chemicals, 

Resistance to heat and UV rays.
You can add selective textures to your polycarbonate label – this is how you increase the durability and resistance. Manufacturers usually offer multiple printing methods and graphics options such as screen and digital printing to meet the requirements of your product. Our experts can apply crystal clear plastic domes to permanent labels and create an attractive 3D mobile.
Wrap up
At Melrose, we have provided many customers with high-quality pressure-sensitive labels. We can manufacture labels with preprinted barcode data or labels that are suitable for thermal transfer printing of variable data in your location. 
Our UL-recognized label constructions will help you to reduce risk when certifying your product, saving you time and money. And out Second surface printed labels can meet even the most demanding labeling requirements and. 
Get in touch with us to take advantage of our expertise and ensure that your product carries high-quality labels.