What are decals? Definition and benefits of decals
June 7 '21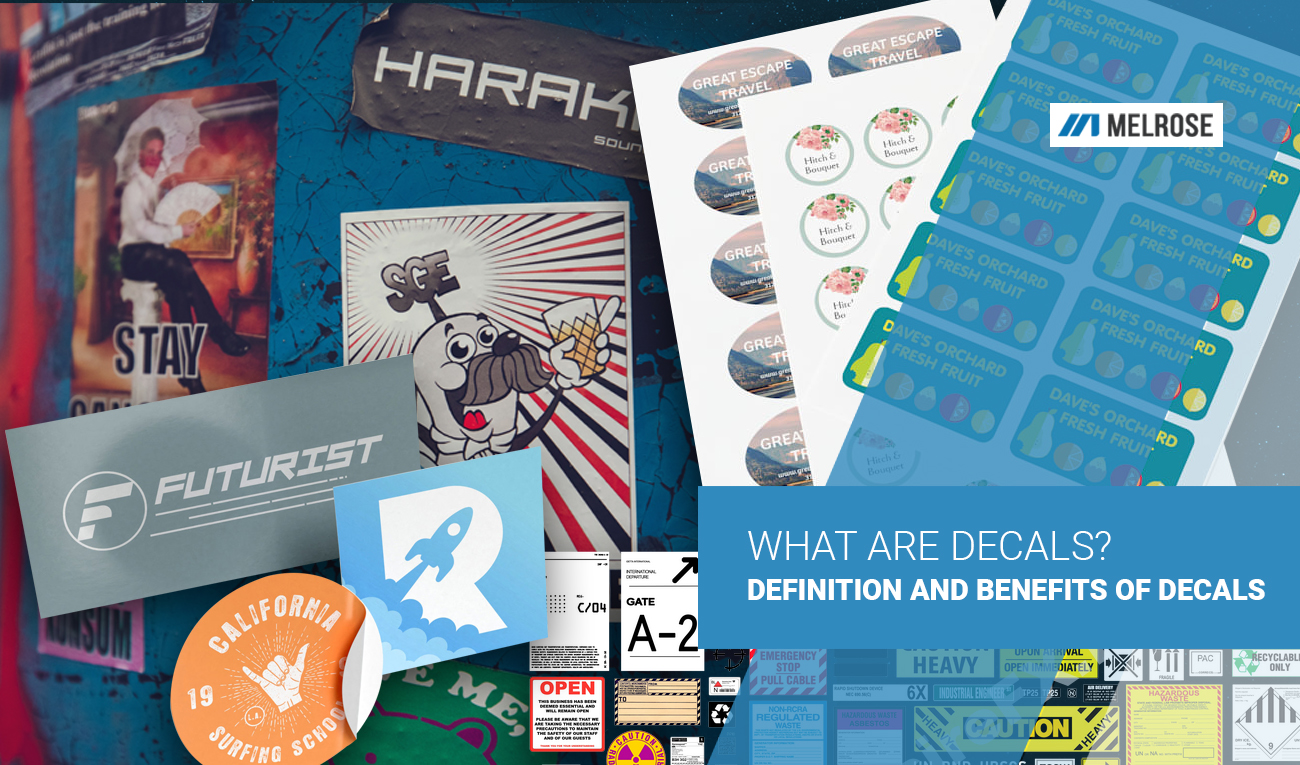 If you're looking for a durable label and offers an attractive look for your brand, custom decals are a top choice. If you don't know what a decal is, don't worry. We wrote this article to help you out and show you why custom decals are such a popular marketing tool today. 
Read on to find out what custom decals are and what benefits they bring to brands across practically every industry.
What are decals? 
Decals combine vinyl and strong adhesives to offer a wide range of labeling opportunities for companies looking to increase their brand awareness and personalize items. Decals can be attached to practically any smooth surface. 
When choosing custom decals, you'll see that they come in any shape, size, and color combination you desire. Most of the time, they also future a custom print with graphics or company logos. 
What's special about decals is that they are a one-time-use product. They're commonly used in permanent advertising projects thanks to the strong adhesive and excellent resistance to various environmental conditions. Businesses use custom decals in both indoors and outdoors applications because they offer outstanding durability in both environments.
What is the difference between a sticker and a decal? 
A sticker is a general name for an adhesive label that is printed or illustrated. A decal, on the other hand, is a design prepared on a special material to be transferred onto another surface like porcelain, metal, or glass. 
So, a sticker is a kind of label. And a decal is a kind of a label, so it can also be classified as a sticker. But labels can be made from many different materials, starting from polycarbonate and polyester to stainless steel, anodized aluminum, and brass. Decals are always made of vinyl.
What are the benefits of using decals?
Resistance
Decals can withstand even the harshest environments. They are resistant to chemicals, humidity, and other environmental factors that may impact the appearance of labels, especially if they're used outdoors. 
Durability
Decals are a great permanent solution that can be used in outdoor applications without showing any signs of wear for more than five years. 
Attractive look
Since decals can carry a wide range of colors and come in different shapes and sizes, they are an excellent tool for creating personalized marketing for brands looking to differentiate themselves on the market.
Get high-quality decals from Melrose 
At Melrose, we have decades of experience in providing our customers with high-quality decals and labels made of durable materials to achieve a long-lasting effect at an optimal cost. We offer UL-recognized constructions and exact color matching to help promote your brand in the most demanding environmental conditions.