What are medical nameplates? Guide to technologies and certifications
January 7 '21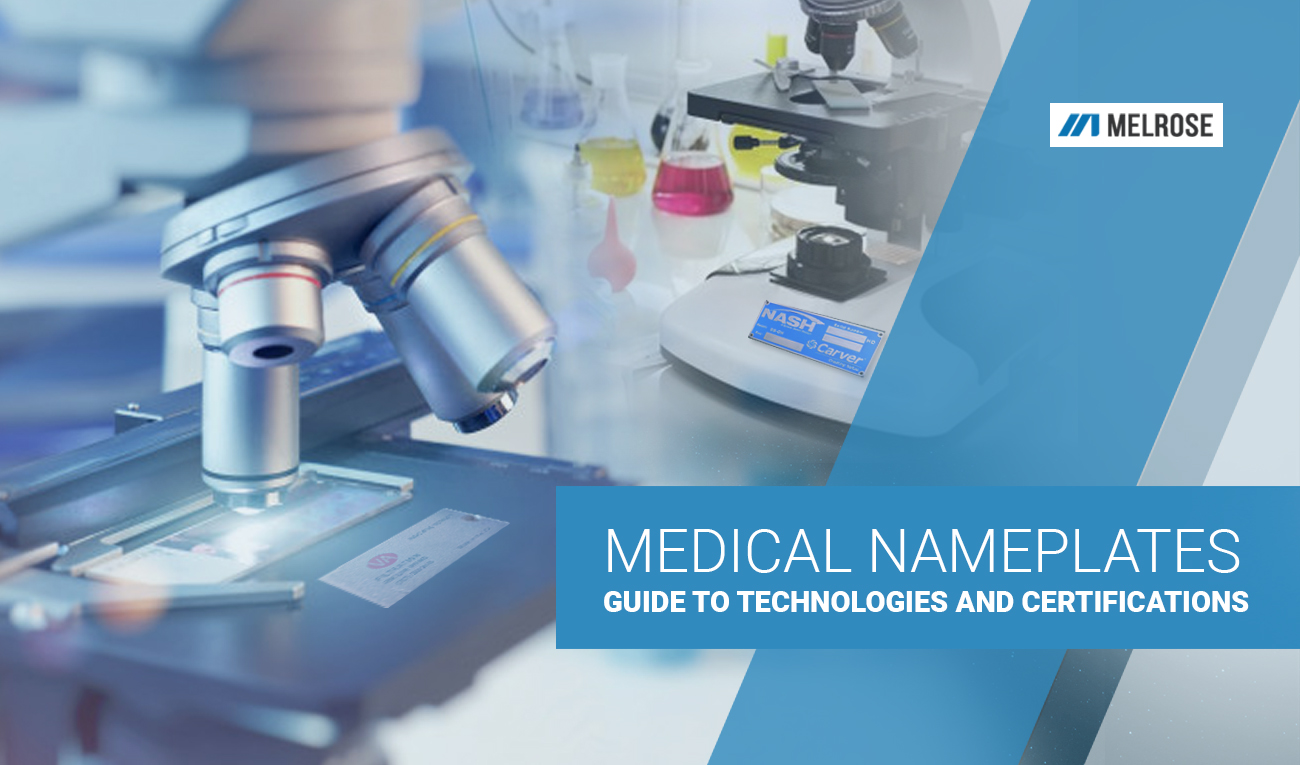 Healthcare providers need labels and nameplates to identify their assets, property, and processes. Labels help to keep track of inventory, easily communicate hospital procedures, and manage patient recalls. 
However, many such assets undergo sterilization in the medical setting. Sterilization or other cleaning procedures render the process of labeling quite tricky because they might cause damage to the materials from which labels are made. As a result, the signage might become illegible and no longer fulfill its role. 
Why are high-quality labels and nameplates so important?
The cost of illegible labels might be far greater for medical devices. The inability of labels to survive the sterilization process may lead to the loss of inventory or even medical errors. This is something every healthcare provider wants to avoid. 
In order to address the issue, the FDA introduced regulations for unique device identification that requires all of the devices used by hospitals for medical purposes to be identified using a solution called the "UDI system".
What is the unique device identification (UDI) system?
This system describes how manufacturers and healthcare providers should adequately identify medical devices sold in the United States. This starts with the process of manufacturing through distribution to patient use.
When fully implemented, a label includes a unique device identifier (UDI) in both human- and machine-readable form – for example, a barcode label. This ultimately improves patient safety, modernizes the device postmarket surveillance, and facilitates innovation in the area of medical equipment.
How to choose the right nameplates and labels?
If you're a healthcare provider or manufacturer that needs to provide nameplates to products in a medical setting, it's essential that the labeling you choose is tested for durability. Such permanent labels can last a long time in healthcare environments with frequent and invasive cleaning procedures.
So what labels can you get for the medical industry? Read this guide to learn everything you need to know about nameplates and labels used in medical environments.
What materials are used for medical labels? 
The most common materials used for labeling in the medical industry are: 
Metalized polyester
Metalized polyester comes with a mirror-like finish that makes it look a lot like stainless steel. Polyester offers both glossy and metallic surfaces. It's a good fit for indoor medical equipment. But since it can also withstand harsh weather conditions, it's also a good match for external medical equipment. Most of the time, a label made of polyester comes with a permanent adhesive. 
Polycarbonate
Polycarbonate offers a range of unique benefits that match the requirements of the medical industry. It's often used in products developed for environments with extreme temperature fluctuations and changes in climate. Polycarbonate labels can be used indoors as well as outdoors. They have a high tolerance for fires and flames. 
Anodized aluminum 
Anodized aluminum has for a long time served as a standard material for medical devices. This is thanks to its nonporous surface that doesn't harbor any mold, bacteria, or fungus. Metalphoto anodized aluminum is a common material used in this area thanks to its durability – the surface image that looks great even after thousands of sterilization cycles. This material can be used for medical device identification applications such as UDI labels, sterilization training container labels, or operating room equipment nameplates. 
Stainless steel (and brass)
Stainless steel nameplates are durable and can last for a long time, even in the harshest of environments. That's why they are also a common choice for medical equipment that undergoes frequent sterilization. 
What kinds of certifications and manufacturer for the medical industry needs to hold? 
Safety and quality are essential requirements for the medical industry. One example of certification you should look for among manufacturers is ISO 9001:2015. 
At Melrose, we hold the ISO 9001:2015 certification to ensure that our customers in the healthcare industry meet this and extra regulatory requirements such as ISO 13485. Our ISO 13485 audits easy and straightforward since the requirements are similar to the aerospace AS9100D certification that we also hold.
Conclusion
Do you have any questions about creating nameplates and labels for the medical industry? Does your application for the medical sector have special requirements? Get in touch with our experts, we're ready to help you choose the best materials and options among our nameplates offer to meet the unique requirements of your project.