What are metallic labels? Definition and use cases
February 16 '21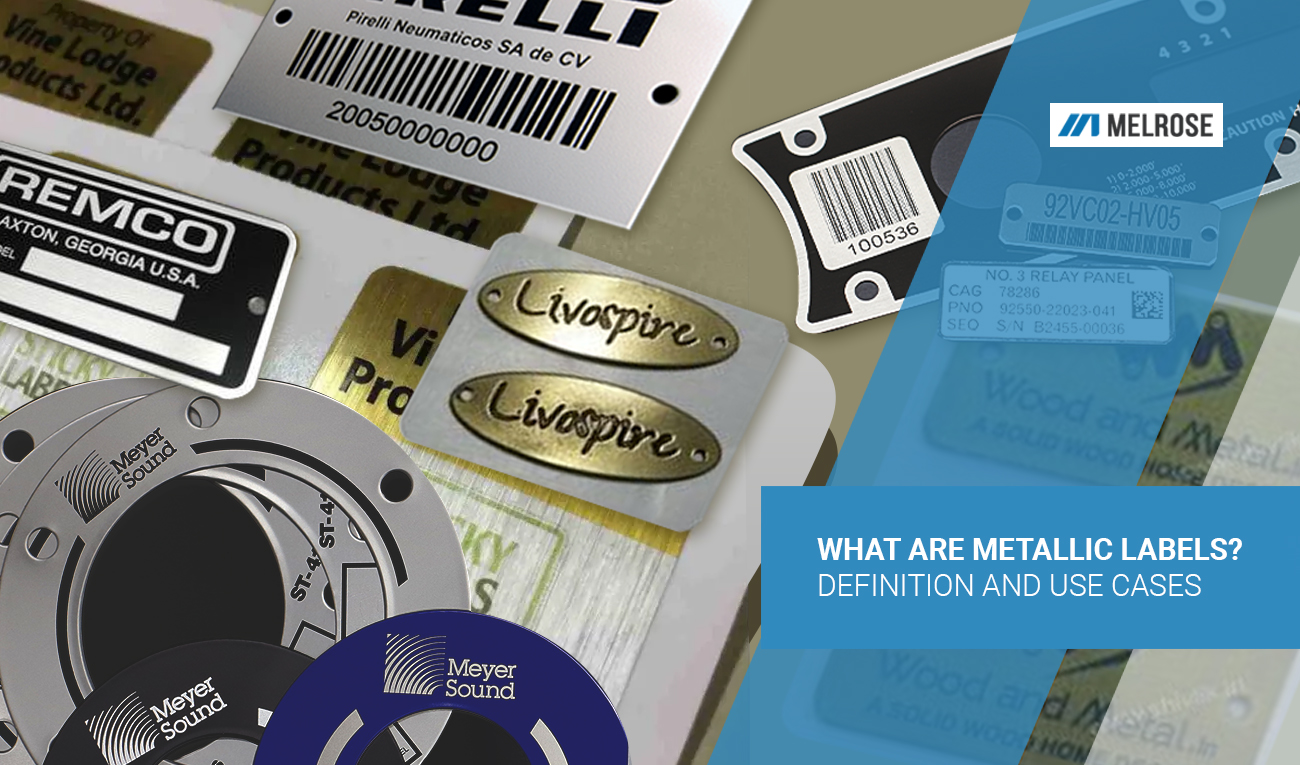 Labels are the most widespread form of product identification. If you're looking for labels that can withstand extreme temperatures and offer excellent durability, metallic labels are your best choice. 
But before approaching a label manufacturer, learn more about these labels and check how they could add value to your application. 
We wrote this article to answer some of the most common questions our clients ask us about metallic labels. Read on to find out everything you need to know about metallic labels.
What are metallic labels made of?
Aluminum is the primary material used to manufacture metallic labels. The labels are a great match for applications that require a material that is lightweight, fire-resistant, and resistant to solvents. 
Aluminum labels are thin and flexible, coming in .003″ to .007″ variants (if thicker than .007″, we can talk about an aluminum nameplate). This includes an adhesive engineered to match the application's surface and environment. Moreover, experienced manufacturers can take your label to the next level by embossing to create an impressive 3D effect. 
Our metallic labels usually are usually anodized for natural, metallic color or black. Colored anodizing is an option as well. The labels can be printed with ink or etched. In the latter case, the colored anodized layer can be removed to create a contrasting copy. In both variants, it's possible to enter variable data like barcodes. 
Specifications and certifications for metallic labels
At Melrose, we manufacture labels that meet the requirements of MIL-P-19834 (tested by an independent test laboratory). This is a common specification for military and commercial airspace materials. We are also certified in airspace quality standards AS9100D and ISO 9001:2015. 
What data can metallic labels include?
Out labels can easily carry any type of variable data, as well as numbering or serial data. At Melrose, we can print labels with the model number, serial number, instructional schematics, crucial warnings, or various types of barcodes.
What are the printing options for metallic labels? 
When opting for meeting labels, you can choose from various processes such as:
Silk screening, 

Etching, 

Embossing, 

Anodizing (selective or covering the entire surface, including Metalphoto),

Lithography,

Digital printing (including the use of UV-cured ink).
What are the adhesive choices for metallic labels? 
You can choose between several options here, including a 3M transfer adhesive 467, 468, 583, and 9472. These are the most common types, but 3M adhesive comes in a broader range. The choice of the adhesive depends on the surface's energy, texture, and the application's environment.
It's also possible to mount an aluminum nameplate with screws if you require absolute permanence. This ensures that your labels last a long time.
Get high-quality metallic labels for your brand
At Melrose, our experts have many years of experience in manufacturing high-quality metallic labels with both static and variable data. Our labels can be embossed, printed, or include a Metalphoto image. Our experts make sure that your labels match the requirements of your specification and provide top value for your application.