What are UL 969 recognized labeling constructions?
March 3 '21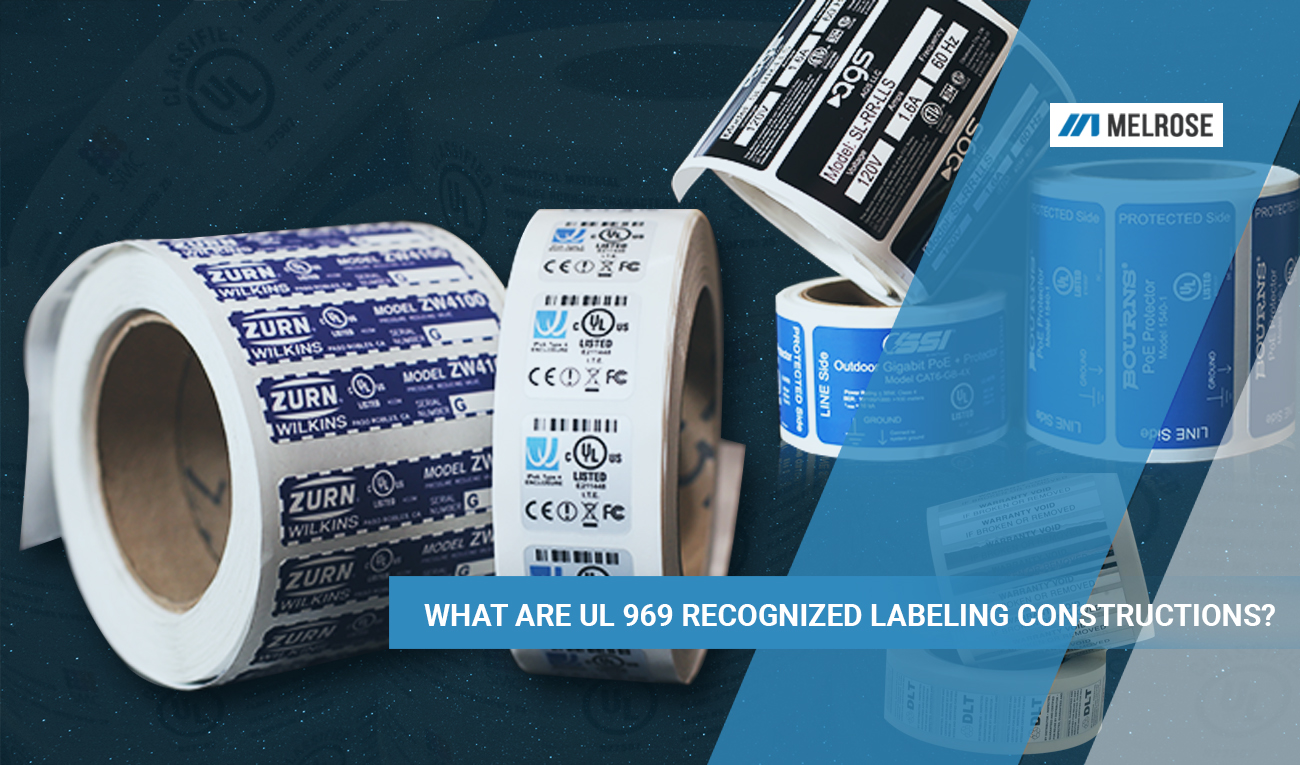 UL standards are a key requirement for many types of applications. When approaching a label and nameplate manufacturer, you need to have full clarity on the kind of standards or certifications you need your plates to meet. Fortunately, many manufacturers offer labeling constructions that guarantee compliance thanks to their pre-qualification and testing by institutions such as Underwriters Laboratories.
This article explores the UL 969 standard to show you what it is, why it's important, and the certification steps you need to take for manufacturing UL 969 labels.
What is the UL 969 standard?
UL 969 (sometimes referred to as ANSI 969) is one of the most important standards for labels and markings that manufacturers provide. Every item produced under this standard is pre-qualified and tested by Underwriters Laboratories (UL) for its durability. In particular, UL 969 is the standard used in manufacturing marking and labeling systems for permanent product identification. 
Examples of such product identification are labels applied to devices and equipment that include rating usage instructions, schematics, and safety-related information (electrical ratings, hazards, warnings, cautionary markings, installation instructions).
UL 969 categories
UL 969 includes five categories that vary by product type and end-use application:
PGDQ2
This is the highest level UL certification for labels. It requires manufacturers to certify the complete systems comprising the adhesive, base material, printing method, system, and lamination. It usually applies to warning and safety labels that need to remain legible during the entire product lifecycle. 
PGJI2
Used for blank labels printed on thermal printers, this certification typically applies to labels printed by the manufacturer in their facility. It requires certifying the label material and thermal ribbon as a complete system.
PGIM2
This UL certification covers finished printed labels bonded to plastic surfaces during the process of plastic molding. Such in-mold labels are used in various molding processes, generic plastic surfaces, and environmental use conditions. They usually provide warnings, instructions, or other information that needs to be permanently marked on products.
PGGU2
This certification requires only the UL certification on the material. There's no need to carry out any other tests to labels. The certification applies to informational labels, not caution, danger, or warning labels.
PGIS2
The PGIS2 certification is used for cord tags and placards that need to comply with specific UL end-product standards when the performance requirements differ from those specified in UL 969. This category is used for products like power supply cords, gate operators, and enclosures for electrical equipment.
Where does the UL 969 standard apply?
This standard applies primarily to unprinted label materials, blank label stocks, laminating adhesives, and screen-printable adhesives that become finished labels, as well as specific printing processes. UL969 also applies to labels that are mechanically attached or molded into a plastic part. 
The requirements of the UL 969 standard for each of these end products are based on the uses and surface substrates to which you apply these labels. Moreover, UL 969 also applies to pressure-sensitive, heat-activated, or solvent-activated adhesive labels that may contain text or pictographs.
According to the UL 969, "marking and labeling systems are evaluated for specific uses and for application to specific surface materials that are essentially smooth, flat, and rigid unless another surface configuration is specified by the manufacturer."
Updates to UL 969
The latest update to the standard was issued on May 30, 2017. It added Hydraulic Fluid Immersion as an exposure condition. Certain hydraulic fluids may have a solvent-like effect and can thus degrade or destroy certain label materials ( plastic or painted metal labels). Manufacturers now need to choose label constructions capable of meeting these new specifications.
UL 969 certification steps
If a label manufacturer like Melrose wished to get labels certified with this standard, they need to follow four general certification steps:
Send the label to UL together with adhesive, substrate, ink, ribbon system, lamination.

Wait for the institution to carry out a series of tests. These include weathering and peel tests.

UL checks that the label construction meets the standard to various conditions. These include different application surfaces (like wood, polycarbonate, powder-coated metal), exposure to temperatures from -20 to 150℃, as well as other factors like indoor use or exposure to an occasional gasoline splash.

The onsite UL inspectors evaluate certified constructions every year and send them to the lab for testing.
Get UL 969 certified labels
Melrose is an experienced manufacturer of UL 969 labels and nameplates that comply with the standards perfectly and are tested on a regular basis. If your application requires UL 969 labels, get in touch with us. Our experts will advise you on the next steps you need to take to achieve compliance and develop a successful application.