What are UL labels? Guide to Underwriters Laboratories labels
October 1 '20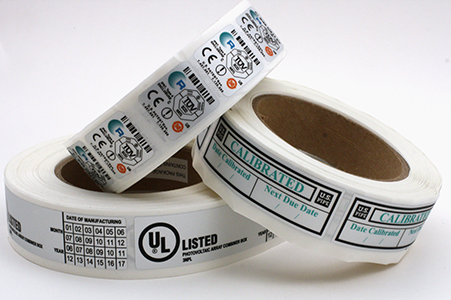 Have you ever noticed a label on an electrical appliance, computer, or mechanical equipment? It's likely that the label bears one of the safety marks, such as CSA or UL. What do those symbols mean? Why are they so important? When should you use UL labels for your business?
When manufacturing electrical devices, the most important attributes from the perspective of the customer of your product is its quality and safety. With this in mind, the Occupational Safety and Health Administration (OSHA) identified and accredited a few independent Nationally Recognized Testing Laboratories (NRTL) to carry out product safety testing and certification.
Some of the most widely recognized laboratories include the Canadian Standards Association (CSA), Intertek Testing Services NA Inc. (formerly known as ETL), MET Laboratories, NSF International, and Underwriters Laboratories (UL).
What is a UL label?
Underwriters Laboratories (UL) is one of the most popular certification organizations in North America. Products that bear a UL are tested and certified to match a specific UL standard. All labels bearing the UL mark were tested and certified under the UL 969 label and marking standard.
UL labels aren't required by federal law in the United States. However, they ensure that electrical products meet with the strictest safety guidelines.
Types of UL labels
UL labels come in several different forms.
UL Listed – this label indicates that the product was tested towards a safety standard recognized by  OSHA.
UL Classified – this label implied that the product is certified to strict standards that were created by UL, but aren't recognized by OSHA.
UL Certified – this label is also known as Enhanced mark, which was created to bridge the gap between the UL Listed and UL Classified label. It often comes together with a smart mark or a 2D bar code. Consumers can scan it to check the safety standards that the product has been tested and certified against.
UL works directly with product manufacturers to designate the right label classification for their products. However, in order to achieve all of the above labels, your product needs to have a UL-approved construction.
What is UL-approved construction?
The construction is a detailed list of key elements of a label should include such as inks, printing processes, application of the product for which the labels design, substrates, decorative finishes, and manufacturing location.
Get UL-certified labels at Melrose
By using the labels we produce, you save the time and cost required to achieve the Underwriters Lab certification for your product. Moreover, by teaming up with us, you reduce the risk of non-compliance.
Melrose Nameplates is UL-certified under Marking and Labeling Systems UL 969 for the three UL label certifications:
Marking and Labeling Systems (Component PGDQ2.MH15654) – we offer 30+ label constructions that have been tested by UL, which confirmed that they meet the requirements for a particular indoor or outdoor environment and application surface. Customers using our labels do it with full confidence that no compliance issues with UL will every arise during regular UL audits. Learn more.
Printing Materials (Component PGJI2.MH49192) – you can print additional information on labels in this category and make sure that they're still UL-compliant. Such materials allow using thermal transfer print (black ink) on a colorful preprinted label. We can include information such as the model number, serial number, bar codes, and more. Learn More.
Authorized Label Suppliers Program (PGAA.LP3173) – this program confirms that UL has authorized us to print the UL logo and all its variations. Learn more.
Moreover, Melrose Nameplates holds ISO 9001:2015 and AS9100D certifications to offer products of the highest quality.
What is the goal of your application? Get in touch with us, and have our experts help you pick a label that saves you time and money in the UL certification process.