What types of variable data can you apply to nameplates?
February 10 '21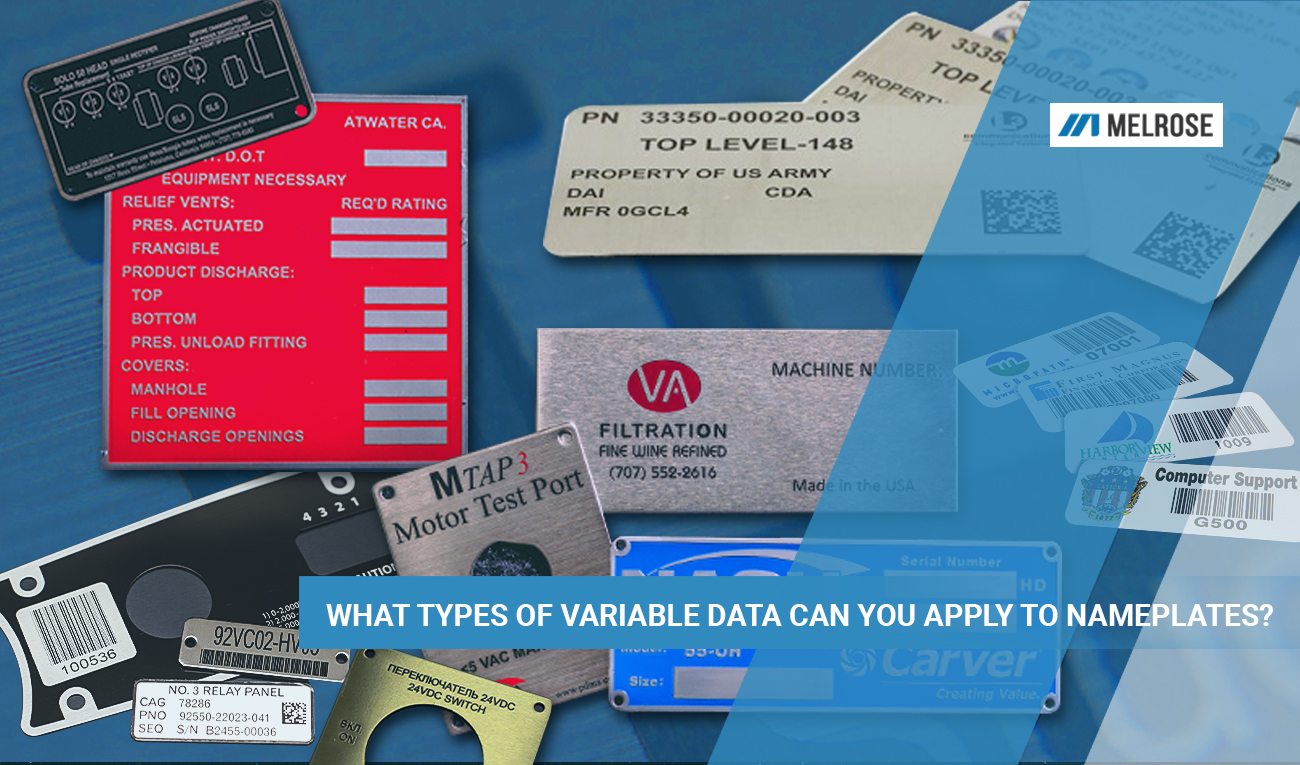 Some applications require nameplates or labels to include different data on every individual part. Variable data is any data such as letters, numbers, icons, etc. 
Variable data labels are widespread and you can find them in customized model numbers, names, and logos that help companies in sales or product family management. 
At Melrose, we believe that every label type can have variable data. We use expert digital printing technologies to customize labels, nameplates, or membrane switches. We have helped many clients to develop an ordering system that addresses their procurement requirements.
If you're wondering what are your options for variable data printing, this article is for you. By the time you finish reading it, you'll be prepared to approach a label manufacturer.
UID labels
UID (Unique Identification) is a system the US Department of Defense uses to enable the traceability of assets where each gets its own code. Also known as IUID (Item Unique Identification) nameplates, these plates are an excellent method for improving asset management.
UID labels might be necessary for applications that
Require permanent identification, 

Are serially managed, 

Are  mission-critical or essential, 

Are inventory controlled,

Or when the UID requirement wasted by the program manager.
Barcode labels
Barcodes allow companies to track and manage assets easily. At Melrose, we offer our clients several options for manufacturing barcode labels:
We can produce barcode labels from metal or plastic. 

You can choose from different barcode formats:

1D barcode formats: 39, 93, 128, UPC, 

2D barcode formats: Datamatrix, QR.
Get custom variable data labels and nameplates
At Melrose, we most often deliver labels and nameplates with variable data using the following materials (label/nameplate constructions):
Thin, self-adhesive labels

Second surface printed self-adhesive labels

Aluminum labels, nameplates, and tags

Stainless steel nameplates
When tasked with printing variable data or barcodes, our experts use various techniques to match the requirements of the application:
laser engraving, 

digital printing,

processing Metalphoto™ aluminum. 
We also etch static barcodes into aluminum and stainless steel nameplates and tags.
Get in touch with us if you're looking for a reliable manufacturer of high-quality nameplates and tags that need to include variable data. Our specialists are here to support your application and ensure that your products are equipped with durable identification plates.