What is technical printing? Definition, benefits, and use cases
October 19 '21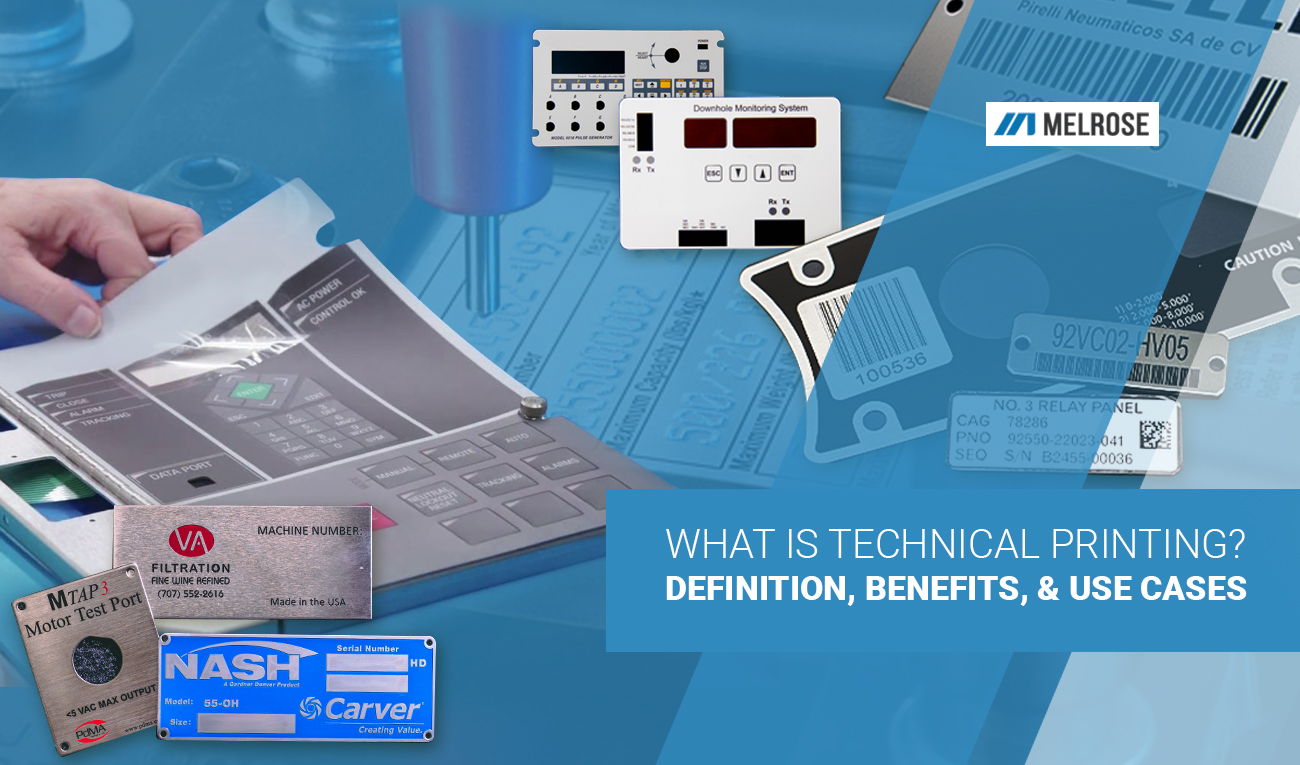 One of the most common activities of manufacturers in the nameplate, label, membrane switch or graphic overlay business is high-volume technical printing. Technically printed parts can be produced with the help of different printing technologies – from gravure and cylinder screen printing to lithographic or screen printing.
But what exactly is the technical printing process? What are its benefits? Keep on reading to learn everything you need to know about technical printing.
What is technical printing?
Technical printing is an umbrella term for printing projects that deviate from industry standards in terms of materials, methods, and requirements. These projects are generally found in highly regulated areas like the medical industry. They demand exceedingly tight tolerances and crucial product standards. 
The methods adhere to current Good Manufacturing Practices (cGMP), which are FDA-mandated rules that guarantee goods satisfy the needed quality standards on a regular basis. For comparable applications, such as membrane switches, manufacturers may employ both technical and functional printing. Note that technical printing has stricter requirements than functional printing.
How does technical printing work?
Printed electrodes – strips created for electrochemical analysis – are a common example of technically printed components. Manufacturers use technical printing here because it's a good approach for producing components for the highly regulated medical industry – for instance, diabetes test strips. 
Engineers print conductive lines meticulously on polyester when making printed electrodes, generally using conductive inks such as carbons, silvers, and silver-silver chlorides.
Adding a conductive ink to a surface using technical printing works like adding icing to a cake. During technical printing, conductive inks are placed as circuit lines on polyester substrates using a similar method.
Technical printing processes
The number, size, complexity, and functional requirements of the part all play a role in determining the best printing process for each technical printing program. The most common types of technical printing are sheet-fed and roll-to-roll. 
Even though both approaches can address the critical application demands, the primary difference is material handling. While sheet-fed printing is essential throughout the design process, roll-to-roll printing works better in most high-volume projects due to its speed, material efficiency, inline inspection, and ability to print several colors per pass.
Sheet-fed screen printing
For low to medium-volume technical printing tasks, sheet-fed screen printing is generally preferred. Sheet-fed printing involves an operator loading individual sheets into a press and then removing them after each pass, adding to the entire production time. 
Because of that, sheet-fed printing might become an inefficient and more expensive approach for high-volume technical printing. It comes with significant size and run rate constraints.
On the other hand, the development phase generally entails producing a large number of versions of a design in a short amount of time. This is where ability and speed become crucial. The sheet-fed printing technique comes in handy during the research phase for technical printing projects (regardless of the printing technology used for production).
Roll-to-roll screen printing
Roll-to-roll printing is a good printing process for high-volume works with a high level of intricacy (a common challenge in technical printing). The substrate is delivered in rolls (or webs) continuously fed through the press by a roller mechanism. 
For capacitive touch applications, disposable medical devices, and electrodes, high-volume roll-to-roll technical printing achieved the leading position in the medical and appliance sector.
Thanks to its speed, tighter tolerances, and higher quality standards, roll-to-roll printing is a better match for high-volume applications. It also results in reduced material waste and cost savings. Since the materials don't require much handling and components may be printed constantly, the procedure is substantially faster. 
Wrap up
At Melrose, we aim to offer our customers the printing technique that best suits their unique demands using our extensive in-house technological printing equipment. Our engineers are capable of handling a wide array of technical printing projects with quantities ranging from low to large. Get in touch with us to learn more about our technical printing capabilities.